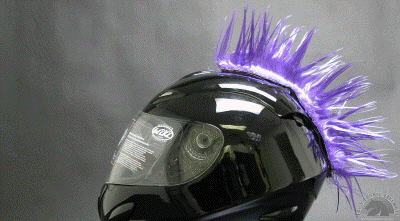 Purple, like a grape lollipop!
Joining the extensive Iron Horse catalog of motorcycle helmets is this New Velcro Purple MOHAWK for use on multiple types of matte or gloss finish helmets: Motorcycle Helmets, Motocross Helmets, Snowmobile Helmets, Snowcross Helmets, ATV Helmets, Quad Helmets, fourwheeler Helmets, BMX Helmets, and Bike helmets.
Workers, put them on your hard hat and show some character. These will make you more visible at the races. Parents, you will finally be able to see your kids! It's a hot-new item, a way to 'stand out' from others, gain attention, and bring some more fun into the sport.
Other colors (Red, Black, White, Blue, Green, Yellow, Orange, Pink and Multi). Mohawk only (the helmet is not included).
Designed by Bikers for Bikers

Tested to over 200 MPH 

Attaches Via Velcro

Hair Length: 10cm, 4in

Front to Back Length: 25cm, 10in