Description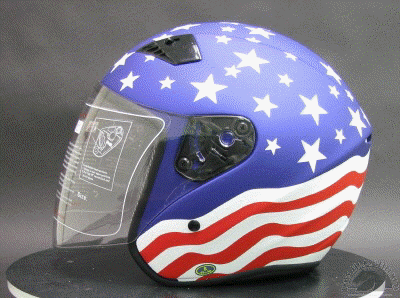 As a gesture of support for free speech, Iron Horse announces today that we will not be selling this DOT ¾ Shell RK5 America Motorcycle Helmet in Cuba. (Also, UPS does not ship there.)
The DOT ¾ Shell RK5 America Motorcycle Helmet allows riders to look bad ass riding their motorcycles. It combines the Captain America Look with the awesome 3/4 Helmet styling. This motorcycle helmet will get you tons of attention. Unless, of course, the Secret Motorcycle Helmet Police come knocking in the middle of the night.

We simply cannot count against placing these robust DOT Motorcycle Helmet into the hands of a regime that suppresses its citizens' rights to open and unrestricted expression. Especially one that's got such great beaches. I mean, have you looked at a globe? That place is like a beach gold mine.

Some may say "But you guys have never shipped to Cuba anyway." To this, we reply, "Why you gotta harsh our freedom buzz?" We would love to be able to offer the Captain America 3/4 shell Motorcycle Helmet to liberty-loving peoples everywhere, but when faced with the twin tyrannies of state oppression and expensive freight, we must do the honorable.
Adult
Hat Size
Inches
CM
XS
S
M
L
XL
XXL
6-5/8 - 6-3/4
6-7/8 - 7
7-1/8 - 7-1/4
7-3/8 - 7-3/4
7-5/8 - 7-7/8
7-7/8 - 8
20-87 - 21.26 in.
21.27 - 22.05 in.
22.06 - 22.83 in.
22.84 - 23.62 in.
23.63 - 24.41 in.
24.42 - 25.20 in.
53-54cm
55-56 cm
57-58 cm
59-60 cm
61-62 cm
63-64 cm
View All
Close
Warranty Information
Certification: DOT

Sizes: XS, S, M, L, XL, XXL

Weight: 924g, 2.06lbs

Side to Side Length: 23.3cm, 9.25in

Front to Back Length: 28.7cm, 11.75in

Padding Thickness: 2.54cm, 1in
View All
Close