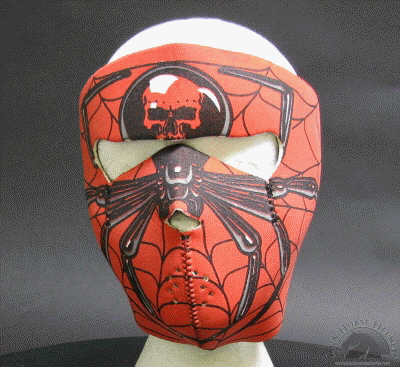 There comes a point in every mans life where he feels the need to pass down some history or perhaps a legacy, this time is now. For the low price of $100,000 you too may become a bad ass. This Spider Neoprene Face Mask is not just a Neoprene Face Mask, it is a way of life. The Spider Neoprene Face Mask is sold by Iron Horse Helmets translates to "Kick Ass Stealth Stealth Spider Masks". I stole this motorcycle from Chuck Noris after I gave him a swift roundhouse kick to the face. I also broke off his arm and signed the receipt with it to my name from him so it is all legit and legally mine to sell now.

The Mask Covers your face, but if you think that stops me from picking up ladies you are sadly mistaken. The first rule I learned in the Mount Tokachi Spider Training Camp was never let the ladies know too much about you. I have found this to be a excellent creed or motto to live life by.

I will not admit to how many ladies I have picked up wearing this mask, but I can tell you the I only caught 4 STD's and the HPV has not changed my life that much.

If you email me asking about being "firm" on the price I will tell you right now that I am NOT. $100,000 is only my starting price, you may want to pay me more after you would see it in person. If you think you can email me and ask me to sell if for less you could just as well save me the effort and punch yourself in the balls because that is what I might do and you are most likely a sissy and not worthy of this spider neoprene face mask. If you are from Africa and try to scam me do not waste my time because I will swim across the ocean and find you in your dirty hut and judo chop your face with an ultimate punch right to the face.

I may email you more pictures if you need to see more. Spider fighting weapons are not included.
Water resistant
Model: FMA1001
Reversible to solid black material
Velcro closure
Wearable with goggles
One size fits most
Climate Protection
Vent Holes at Ear and Mouth