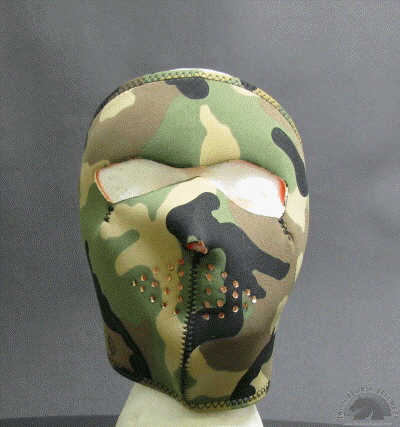 Captain Ahab was pissed. A big white bear had eaten his only son. Cap. Ahab wanted revenge...And he wanted it now.
Our good old captain grabbed his shot gun and his woodland camo neoprene face mask and went hunting for the bear that he name Moby Dick (I'm not quite sure where he got that name).

Captain Ahab searched high and Captain Ahab searched low. Finally he saw Moby Dick, but Moby Dick also saw Captain Ahab.

Mody Charged and hit Captain Ahab in the leg shattering his leg in 25 places....Ouch.

What was Captain Ahab to do? Well, what could he do? He simply reversed his woodland camo neoprene face mask to the orange side so the rescue party could find him.....And they did.

Captain Ahab lived a long miserable life and never again put on the Orange/Woodland Neoprene Face Mask that brought back so many bab memories.
Water resistant
Model: WNFM118HV
Reversible to solid black material
Velcro closure
Wearable with goggles
One size fits most
Climate Protection
Vent Holes at Ear and Mouth