Description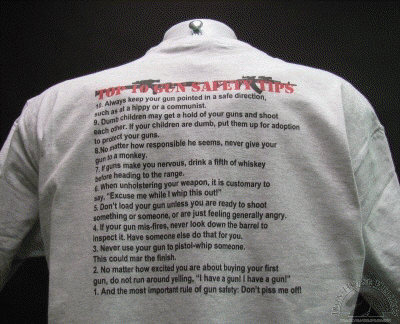 Not afraid to express yourself? Good, our Tees got attitude and something to say. Make a statement or make 'em laugh with T-shirts from Iron Horse Helmets. Got a great idea for the next Iron Horse Helmet T-shirt, send it to us - we won't give ya nothing for it, but we might use it and will be sure to take all the credit for it.
These tee shirts are available in eight different colors and seven (got that, SEVEN) sizes. Yes, we realize that some of you are no longer a fit and trim size 44 chest, so we're offering our awesome shirts in sizes up to triple XL. Choose your color, choose your size, choose your quantity. The Top 10 Gun Safety Tips is boldly printed across the back of the tee, we do some blatant advertising on the front and print our logo on the front left chest so you don't forget where you bought it!!
Our direct to garment printed biker t-shirts are priced low enough that you could have a fresh one for every day of the week!
The Rules are:
Always keep your gun pointed in a safe direction, such as at a hippy or a communist.
Dumb children may get a hold of your guns and shoot each other. If your children are dumb, put them up for adoption to protect your guns.
No matter how responsible he seems, never give your gun to a monkey.
If guns make you nervous, drink a fifth of whiskey before heading to the range.
When unholstering your weapon, it is customary to say, "Excuse me while I whip this out!"
Don't load your gun unless you are ready to shoot something or someone, or are just feeling generally angry.
If your gun mis-fires, never look down the barrel to inspect it. Have someone else do that for you.
Never use your gun to pistol-whip someone. This could mar the finish.
No matter how excited you are about buying your first gun, do not run around yelling, "I have a gun! I have a gun!"
And the most important rule of gun safety: Don't piss me off!
View All
Close
Warranty Information
100% Cotton


6.1 oz. 100% preshrunk cotton


Direct to garment printed

Generous Fit


Available in all sizes XS-XXXL
View All
Close