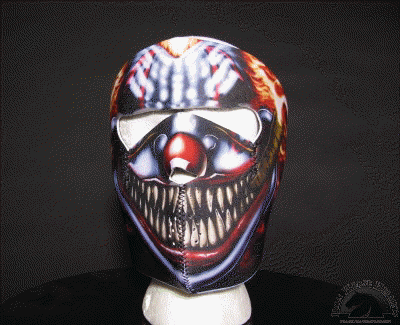 I'm the kind of guy, when I say something, I mean it. So I'll never own a Neoprene Face Mask.
I can still remember it like it was yesterday. I was sitting at my friend Tommy's house, playing Super Nintendo, and he said something about a Neoprene Face Mask that has a smoking clown design. I said "What? That's lame. That's for babies." And I still stand beside that statement now, roughly two decades later. Because a man who doesn't stand behind his opinions? That's not a man at all.
So I'll never own a Smoking Clown Neoprene Face Mask. I don't care that it's made of 70% Neoprene and 30% Polyester, or even the Reversible, piped edges for better fit. I don't care about if one size fits most with velcrorized strap closure.. All I care about is that conversation with my best friend back in Middle School and how I committed myself to a course of action that still has to continue to this day if I want to feel good about myself. And I maintain: Neoprene Face Mask are lame, and for babies.
I also don't take vitamins, only drink milkshakes, refuse to watch anything but the first season of Robotech, and only wear starched linen shirts. Funny story about that, it dates back to college and when I was in a Rat Pack period. Kinda not enjoying it now, but I said it, and I gotta stand behind it! Which is painful sometimes, as I've learned that I'm horribly allergic to starch.
Water resistant
Reversible to solid black material
Velcro closure
Wearable with goggles
One size fits most
Climate Protection
Vent Holes at Ear and Mouth