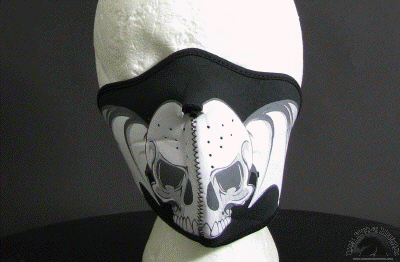 One day a Norwegian man named Wa Too Big walked into the office wearing Dress Pant and an Executive smock, but he felt like something was missing. After adjusting their eyes from the blinding whiteness of his exposed torso, the rest of the staff noticed something was missing too.

Then it hit him. The Up North Coast Workwear collection needed a Winged Skull half Neoprene Face Mask. Not just any neoprene mask, but something that would be professional and stylish for the office, and also fit in a weekend rotation.

After some tinkering, Mr. Big developed the Winged Skull half Neoprene Face Mask, a dress mask that features soft-brushed neoprene and not so colorful skull.
Neoprene material is wind and water resistant
Works great under a helmet, goggles or alone
Hook and loop closure is adjustable
One size fits most
Reversible to solid black side
Water resistant
Reversible to solid black material
Velcro closure
Wearable with goggles
One size fits most
Climate Protection
Vent Holes at Ear and Mouth