Description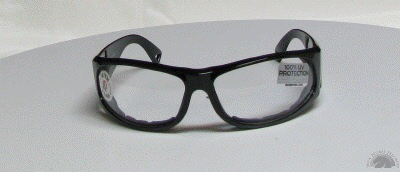 That's right, buddy. You can read the sign, right? I've expanded my "no shirt, no shoes, no service" policy to include "no biker shades."

My place, my rules. You don't like it, you got two choices. Take your business somewhere else and never darken my door again, or buy a pair of these Californaidesigned motorcycle sunglasses I happen to have conveniently for sale next to the door.

Save your sob story for Dr. Phil. I got a business to run here and if I decide I don't want to look at your crazy eyes, my word is law, got it? The Californai sunglass, similar to Bobsters popular GX/GXR series features a wrapped frame made of a polycarbonate material. Rubber temple tips give you the extra security that the glasses will remain in place, while the closed cell foam allows for a more comfortable fit as well as additional protection from debris. Ventilation from the closed cell foam will prevent fogging as well. The matte black finish keeps the look simple and stylish, I got no beef with that. But let's make one thing clear: your eyes will be covered or they'll be out on the street. That getting through your thick skull yet, Ein-steen?

OK, I'm glad you're seeing the light. Here's your change. Now go ahead and grab yourself a pew. We start the worship service in ten minutes. Hey, whaddya want from me? The collection plate's been a little light lately. We gotta provide however we can.
View All
Close
Warranty Information
Clear polycarbonate lenses

Similar to Bobsters GX/GXR

Closed Cell Foam

Rubber Detail Temple Tips

Anti-Fogging

Matte black finish 
View All
Close