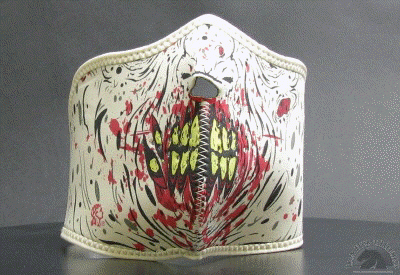 Personally, I'm a little disappointed that this Zombie Neoprene Face Mask is tastefully not vicious enough. You don't copy a design from the world's most ironic t-shirt only to half-ass the execution.
Imagine if you bought this Zombie Biker Mask the right way. How great would it be—when you finally manage to lure that hipster girl home from the biker bar—to peel off your actual Zombie Neoprene Face Mask and reveal you look like a Zombie underneath?

She would positively swoon. I mean, after all, she went home with a guy wearing a Zombie Neoprene facemask. The roofies had to kick in at some point.

Zombie Design Neoprene facemask features full coverage of the face and ears. Stretchy neoprene material is warm and water resistant. Black Bear Patterns are reversible to solid black material. Velcro closure ensures great fit with goggles, with a helmet or without. One size fits most.
Water resistant
Model: WNFM172H
Reversible to solid black material
Velcro closure
Wearable with goggles
One size fits most
Climate Protection
Vent Holes at Ear and Mouth