Description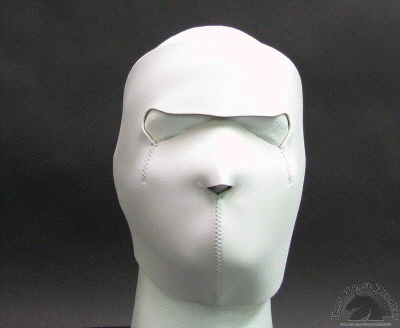 This is just a boring white neoprene face mask. It is really nothing special.....I would probably only wear it to a KKK meeting just to stay warm or possibly to Sean 'Diddy' Combs' White Party. Other than that, I doubt I would wear this.
But that is why there is chocolate and Vanilla....This might be the cats meow to some librarian out there.
Features will include:

Full coverage of the face and ears with stretchy neoprene material that's water resistant and provides warmth. Its bound nylon edges offers added comfort and durability, while the hook and loop closure ensures great fit. Reversible to black material, one size fits most.Material: 70% Neoprene, 30% Polyester
Please keep in mind that this is our only mask with no holes around the mouth. That is great gor people who spit a lot while they talk.
View All
Close
Warranty Information
Water resistant
Model: Econo White
Reversible to solid black material
Velcro closure
Wearable with goggles
One size fits most
Climate Protection
Vent Holes at Ear and Mouth
View All
Close