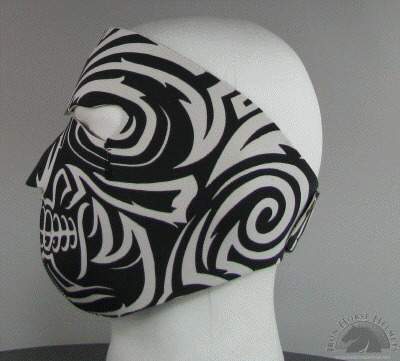 When you wear this Tribal Moko Neoprene Face you become a Hombre.

But not just any Hombre, you become a Tribal Moko Hombre.
And a Tribal Moko Hombre can eat a muchas tacos!
So, get out your wallet, grab your pesos and buy this Tribal Moko Neoprene Face.
Just be sure to call us and invite us on Taco Tuesday!
Made of 70% Neoprene and 30% Polyester.
One size fits most with velcrorized strap closure.
Face measures 8 inches high, 24 inches wide.
Reversible, piped edges for better fit.
Hand washable.
Water, wind resistant material.
Available for export.
Available in many styles.
Water resistant
Model: FMA1025
Reversible to solid black material
Velcro closure
Wearable with goggles
One size fits most
Climate Protection
Vent Holes at Ear and Mouth