Description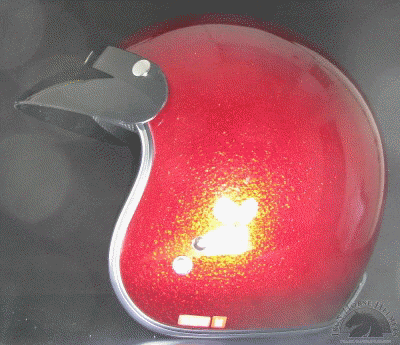 Everybody says that spiritual enlightenment is difficult to attain. Nah -- you just gotta buy one of these thingies.
Siddhartha came upon a fig tree and rested in the shade below it. He closed his eyes and thought about his life. He had lived the life of royal indulgence as a young man, but had failed to achieve happiness. Then he had abandoned everything and lived the severe life an ascetic, but still he found no peace. What was he missing?
The young man resolved to sit beneath the fig tree until he achieved full awareness. He sat and sat, silently breathing and reflecting. Then, as a wind comes to the sea, a great waft of realization came to him: In his previous endeavors he had never had a truly excellent Motorcycle Helmet.
He realized that he must get out from under that dirty tree and go buy an Retro Wine Metal Flake Open Face Motorcycle Helmet. No longer would he suffer in the endless cycle of existence, but could free himself through a $90 purchase.
A profound change came over the man as he thought about riding his motorcycle with this Retro Wine Metal Flake Open Face Motorcycle Helmet. A particular smile crept onto his lips, and he breathed a sigh of blissful relief.
Available in all sizes XS-XXL. Please refer to the Size Chart page for your size.
*Fiberglass Composite Co-Weave Shell.
*3-Snap Sun Visor.
*Plush Black Interior.
*Double D-Ring Retention System.
*DOT approved.
*Suggested Retail Price $109.95 US.
Adult
Hat Size
Inches
CM
XS
S
M
L
XL
XXL
6-5/8 - 6-3/4
6-7/8 - 7
7-1/8 - 7-1/4
7-3/8 - 7-3/4
7-5/8 - 7-7/8
7-7/8 - 8
20-87 - 21.26 in.
21.27 - 22.05 in.
22.06 - 22.83 in.
22.84 - 23.62 in.
23.63 - 24.41 in.
24.42 - 25.20 in.
53-54cm
55-56 cm
57-58 cm
59-60 cm
61-62 cm
63-64 cm
View All
Close
Warranty Information
Certification: DOT

Sizes: XS, S, M, L, XL, XXL

Weight: 924g, 2.06lbs

Side to Side Length: 23.3cm, 9.25in

Front to Back Length: 28.7cm, 11.75in

Padding Thickness: 2.54cm, 1in
View All
Close