Description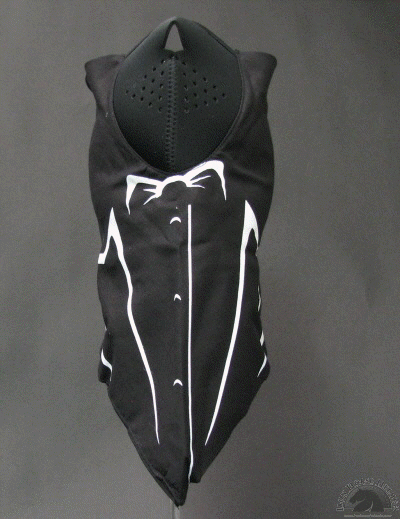 4 theories concerning the disappearance of Amelia Earhart:
1. She crash-landed on a remote island, where she was captured by the Japanese and forced to design this Glow in the Dark Tux Neodanna.
2. Her plane was hijacked by a deranged man wearing this Glow in the Dark Tux Neodanna. In the ensuing struggle between she and her hijacker, she lost control the aircraft and crashed somewhere in the Pacific Ocean.
3. Her former lover, who she bought a Glow in the Dark Tux Neodanna for, used an ice pick to puncture her fuel tank before take off. By the time she realized her fuel was low, she had nowhere to land.
4. Caught in a storm, she crash-landed in the Pacific, only to wash up on the shore of a tropical island inhabited by people wearing Glow in the Dark Tux Neodannas. They welcomed her into their commune with opened arms, and she lived among them, happy until the day she died of natural causes at the age of 97.
This Glow in the Dark Tux Neodanna is a revolutionary item with multiple features. Our 100% cotton bandanna is combined with a neoprene face mask to ensure full coverage of the face and neck, providing a comfortable light-weight fit. The neoprene section covers the cheeks, nose & mouth, while the bandanna is easily adjusted with a hoop and loop closure.
The Glow in the Dark Tux design Neodanna is ideal for wind and dust protection in both warm and cold weather settings. Material: 80% Cotton, 20% Neoprene.
View All
Close
Warranty Information
100% cotton bandanna with a neoprene mask
Model: WNEO141G
Velcro closure
full covers the cheeks, nose and mouth,
U.S.A Patented
Climate Protection
Vent Holes at Ear and Mouth
View All
Close