Description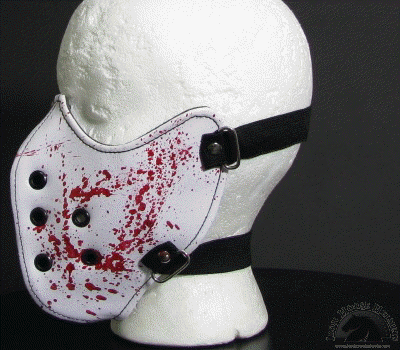 Youza! Who let that out of the house? Well, if your into getting strange looks while you ride, (while laughing yer a.. off under that mask) yet riding with something that is functional and fun, this is what you have been looking for!.....The Chainsaw Cold Weather Face Mask! Caution: Remember what your parents told you.....don't smile too broadly or for too long....it could cause your face to stay that way!

The Features of this unique face mask include:

• Half Face Cold Weather Face Mask. Genuine Leather exterior, soft vinyl interior which easily conforms to face
• 2 One inch wide elastic bands are used to hold the face mask close to the riders face while fitting comfortably to any size head
• Coated rivets to protect materials against 'the elements'. The rivets are contoured inside the mask thereby offering a comfortable 'fit' while riding

Like all of our products, in order to keep the costs down for our customers, we currently offer one color. However, if we begin to see enough requests for other colors, rest assured, the appropriate investments will be made to accommodate those requests!
View All
Close