Description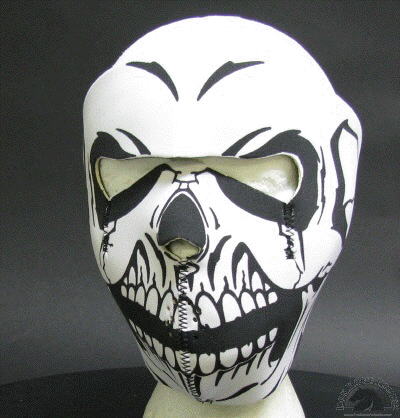 Let's make a long story short. We imported 1000 of these masks for one customer. That customer (Hot Topic) refused shipment and sent them all back because it took too long to arrive. Now we understand why South Park makes fun of them so much.
We are selling these masks for $7 because we want to get rid of them We will lower the cost to $3 in celebration if we are able to drive Hot Topic out of business.
The Skull face mask is all attitude. The Skull Face Mask is made of soft neoprene that provides full coverage of the face and ears. Stretchy neoprene material is warm and water resistant. The Skull Face Mask is reversible to solid black material. Velcro closure ensures the Skull Face Mask has a great fit. The Skull Face Mask can be worn with goggles, with a helmet or without. One size fits most.
Skull Face Mask Features:
Full face protection
Can be worn with or without a helmet
Can be worn with goggles
Made of weather resistant, stretchy neoprene
Reversible to solid black
Velcro closure ensures perfect fit
One size fits most
| | |
| --- | --- |
| Very warm | December 21, 2012 |
| Reviewer: Steven Stratford from American Canyon, CA United States | |

my only complaint is that it fogs up your goggles (like they all do).


| | |
| --- | --- |
| great products | December 7, 2012 |
| Reviewer: ryan wills from waterbury, CT United States | |

Fast delivery and great ski masks for riding


| | |
| --- | --- |
| happy customer!!!! | November 27, 2012 |
| Reviewer: Mike Ciepley from Aurora, IL United States | |

Thankyou Very Much for the Mask . It will workout well. Hope to find more things I will need. AWESOME I AM VERY HAPPY WITH THIS!!!!!!!!!


| | |
| --- | --- |
| Purchase order | March 20, 2012 |
| Reviewer: Walter Parker from Far Rockaway, NY United States | |

I was very pleased with the swiftness of delivery and quality of my order. Thank you



View All
Close
Warranty Information
Water resistant
Model: WNFM230
Reversible to solid black material
Velcro closure
Wearable with goggles
One size fits most
Climate Protection
Vent Holes at Ear and Mouth
View All
Close