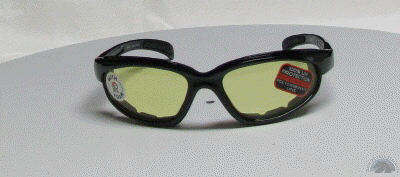 Raising Arizona might be one of the most awesome movies of all time.

What could have made it even better you ask?

First: Take crappy ass actor Nicholas Cage out and replace him with Richard Pryor...Red pimp suit and all.

Second: Put a pair of these new Yellow Arizona model biker sunglasses on The Lone Biker of the Apocalypse who chased him the whole move. I mean come on Coen Brothers, the only thing scarier than a biker is a biker with no eyes.
The Arizona sunglass replicates Bobster's very popular Fat Boy sunglass. Yellow polycarbonate lenses provide 100% UV protection. Closed cell foam aids in keeping wind, dust, and debris out of the eyes and ensures a comfortable fit. Also to ensure a secure hold while wearing, rubber detail was added at the end of the temple tips to prevent the eyewear from sliding. The shiny black finish and small frame keeps eyewear looking stylish.
Yellow polycarbonate lenses

Replicates Bobster's Fat Boy sunglasses

Closed Cell Foam

Rubber Detail Temple Tips

100% UV Protection

shiny black finish