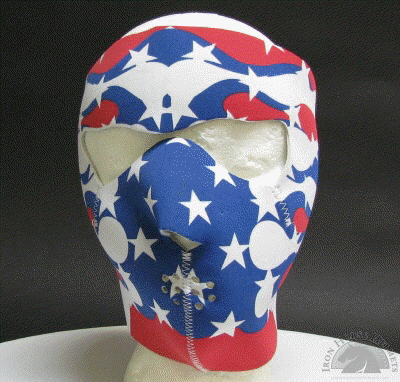 Some Neoprene Face Masks spend their whole lives happily protecting your face without a care in the world, like our friend Mr. American Flame Neoprene Face Mask here. Look at his American flag with his playful flames. He likes nothing more than giving you full coverage of the face and ears. It's what the American Flame Neoprene Face Mask was built to do and, boy, he enjoys his work.

American flame neoprene biker facemask features full coverage of the face and ears. Stretchy neoprene material is warm and water resistant. American Flame Patterns are reversible to solid black material. Velcro closure ensures great fit with goggles, with a helmet or without. One size fits most.
Now, here is some crap we stole just so the spinning image fits on the page:

This awesome neoprene full face American flag flame style facemask is perfect for protecting your face from wind and cold. With a large eye opening shaped nose with an opening for easy breathing and small holes at the mouth the flexible neoprene will form to your face giving you a comfortable fit. The mask is secured with a wide adjustable Velcro strap at the back and is solid black on the reverse side so you can change your look around. Ideal for motorcyclists snowmobiling and skiing the cushiony featherweight material is weather tested and designed to keep your face warm against the harshest winds and cold. This face mask is brand new never worn. It can be worn under glasses and goggles with helmets or without and stretches to fit almost any size head. It`s also great for use in paintball battles.
Water resistant
Reversible to solid black material
Velcro closure
Wearable with goggles
One size fits most
Climate Protection
Vent Holes at Ear and Mouth