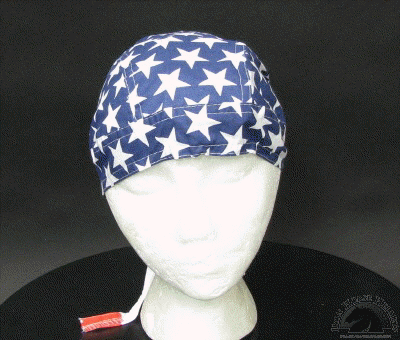 This American Flag Do-Rag Flydanna is a bandanna, cut into 6 panels and sewn into a headwrap, with a tail and ties at the nape of the neck.
Whether you're planning to enjoy an Independence Day parade or represent America in the next Motorcycle Olympics, rest assured that when you put on a this USA Do-Rag Flydanna, you instantly become the most preposterously patriotic person around.

With star-spangled front and red striped back, they're Old Glory in Do-Rag Flydanna form. In fact, our designers swear this Do-Rag Flydanna were lovingly hand-stitched by the spectral fingers of Betsy Ross's ghost!

Here are some more of their unrivaled features:

• Tested for Nazi- and Commie-fighting durability by Captain America.
• Approved for Knievel-esque jumps over 4th of July BBQs.
• Design endorsed by Swiftwing, King of All Bald Eagles.
• Makes flatulence smell like mom's apple pie.
• Must be worn at half mast on Memorial Day.
100% cotton


Cut into 6 panel


Manufactured by: Zan

One size fits most