Description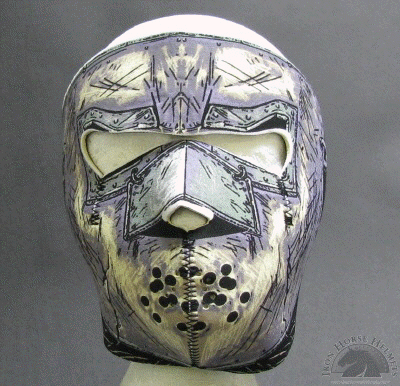 I will be the first to admit that I am a little lazy today. OK, I am really lazy. I don't fell like being creative or writting stuff. So, I am just going to steal some reviews off Amazon and call the 5150 Face Mask write up Done:

4.0 out of 5 stars Good mask!, November 15, 2012
By raiderfatboy -
Good mask it's just what I needed while riding my Harley Fatboy in the morning. The mask looks great with my German helmet, straight evil looking as I'm rumbling down my block! I get lots of compliments. The only reason I didn't give it 5 stars is due to the customization's I had to do in order to make it perfect. Initially like with all face masks my goggles or shades fogged up but all you have to do is get some scissors and cut around the bottom part of the nostril area on the mask, cut enough so that while wearing the mask just the bottom part of your nostrils are exposed. When you breath outward through your nose there should be no material blocking because if there is it will send the hot air upwards and fog up your goggles.If you need too you can also cut around the eye area to make it wider. Besides this the material is thick and great for cold weather riding. I ordered this and my German helmet and I received it in less then a week. I recommend this mask to everyone!

By Gula -
Works really well for when the wind is just beating on your face while it's cold outside. Should work well on a bike or snowboarding too, which I have not tested yet.

There are even more reviews, but I am way too lazy to hit cut and paste today.
View All
Close
Warranty Information
Water resistant
Reversible to solid black material
Velcro closure
Wearable with goggles
One size fits most
Climate Protection
Vent Holes at Ear and Mouth
View All
Close